Josh Ritter
Josh Ritter Concert Review, Birchmere, Alexandria VA, January 29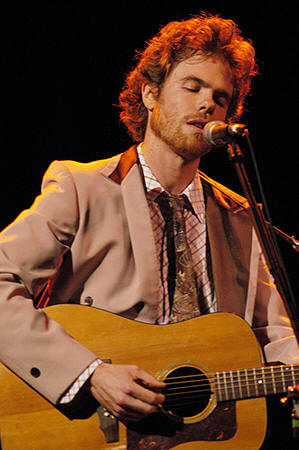 , 2007

The first thing you notice about Josh is his crazy, infectious smile and before you know it, you're smiling too. Even though Josh is an extremely talented songwriter, I was a little nervous whether or not a solo Josh Ritter with just his guitar would be just as good as hearing him with a band.
Well, if you get a chance to hear Josh by himself, go. First off, he's hillarious. He's not a linear thinker (his stories aren't necessarily told in order of events), he's got a great wit and sense of humor and he grew up in Idaho (both Kell and I were homesick for the intermountain west thanks to Josh).
The venue wasn't real big, probably the size of 1.5 church cultural halls, and the acoustics were great. The room is in dinner theater style, you sit down the whole time (you get talked to if you stand up during the show) and can eat from their menu if you choose.
Josh sang almost every song from his latest album, "The animal years," and even though I've been listening to it regularly for nearly a year now, I caught some lyrics I hadn't before. He played Kathleen, Harrisburg and a couple of other older songs. He told a great story about the first song he wrote, an infectious ditty about a goldminer killing off his partner with lines like "The only thing we had discovered was golden snow." The best thing about the "golden"
snow line was less than half the people there chuckled at the line.
He introduced one song by saying he usually dedicates it to Dick Cheney, and then proceeded to tell how about personality types and how Dick has a personality of a drummer--he keeps the rythym going steady despite whats going on...anyway I'm butchering a funny joke.
There were a few songs that need a backing band, but overall it was a great show. Check out Josh. Other than being rediculously cute (not handsome, cute) he's an extremely talented songwriter and if his new unreleased material is of any indication, he's just getting better.
Josh Ritter The Girl in the War mp3
Josh Ritter Harrisburg mp3

Paul McCartney

Last week on Fuel Friends, I read about a bootleg that someone had declared one of their favorite bootlegs. After listening to it, I'd have to say its one of my favorite too. Paul is on his guitar playing and singing while Linda is taking photos of him. You can hear the camera shutter, and occasionally she sings along with him and even makes a request. Towards the end he asks if he can play outside and well, just listen......

Photoshoot Medley Paul and Linda McCartney MP3



The Broken West
There's not pic on google images of this band, but out of 85 mp3s that I listened to the last couple of days, I couldn't stop listening to this one. Take a gander, it won't disappoint (unless your music of choice is Justin Timberlake...

The Broken West-Down in the Valley-mp3


Note: Right click on the files and then select save target as to save the mp3 file. Just click on the file to stream.