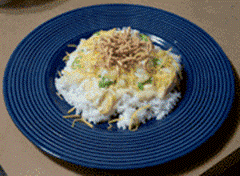 I'm a fan of potlucks and church dinners. Food cooked by a bunch of different people? Awesome. I get to eat classic "Mormon" food I don't normally prepare for myself in addition to other dishes, plus I get to talk to people I don't always see while eating. Pretty much a win-win situation in my world.
However, a Hawaiian Haystack themed potluck is one thing that Mormons should put out to pasture permanently. White rice, canned chicken, pineapple and chow-mein all mixed together? I'll eat it, but it's my least favorite "potluck" theme ever. Of course, if I keep talking like this I have a suspicion I'll be asked to be on the activities committee next.
If you love Hawaiian Haystacks, feel free to comment, I promise not to ridicule you, but if you have a more disliked theme for a potluck meal, let me know.
Lungs: I've gone from sounding like I have a six pack a day habit to a one pack a day habit. Progress!